Therapy Services
Trained, professional therapeutic treatments with a specialized plan of care tailored to each patient's needs.
Healing Your Body By Targeting the Source
Whether you are suffering from a recent injury or chronic pain, no one likes to be physically limited.
That's why Mountain Valley therapists are careful to identify and address the root cause of your injury or pain, making sure we don't just put a band-aid of rest and anti-inflammatories on top of a larger problem that will keep presenting itself over and over. Our goal is to not only minimize your symptoms, but to target the source of your symptoms – effectively reducing the risk for reinjury or flare-ups.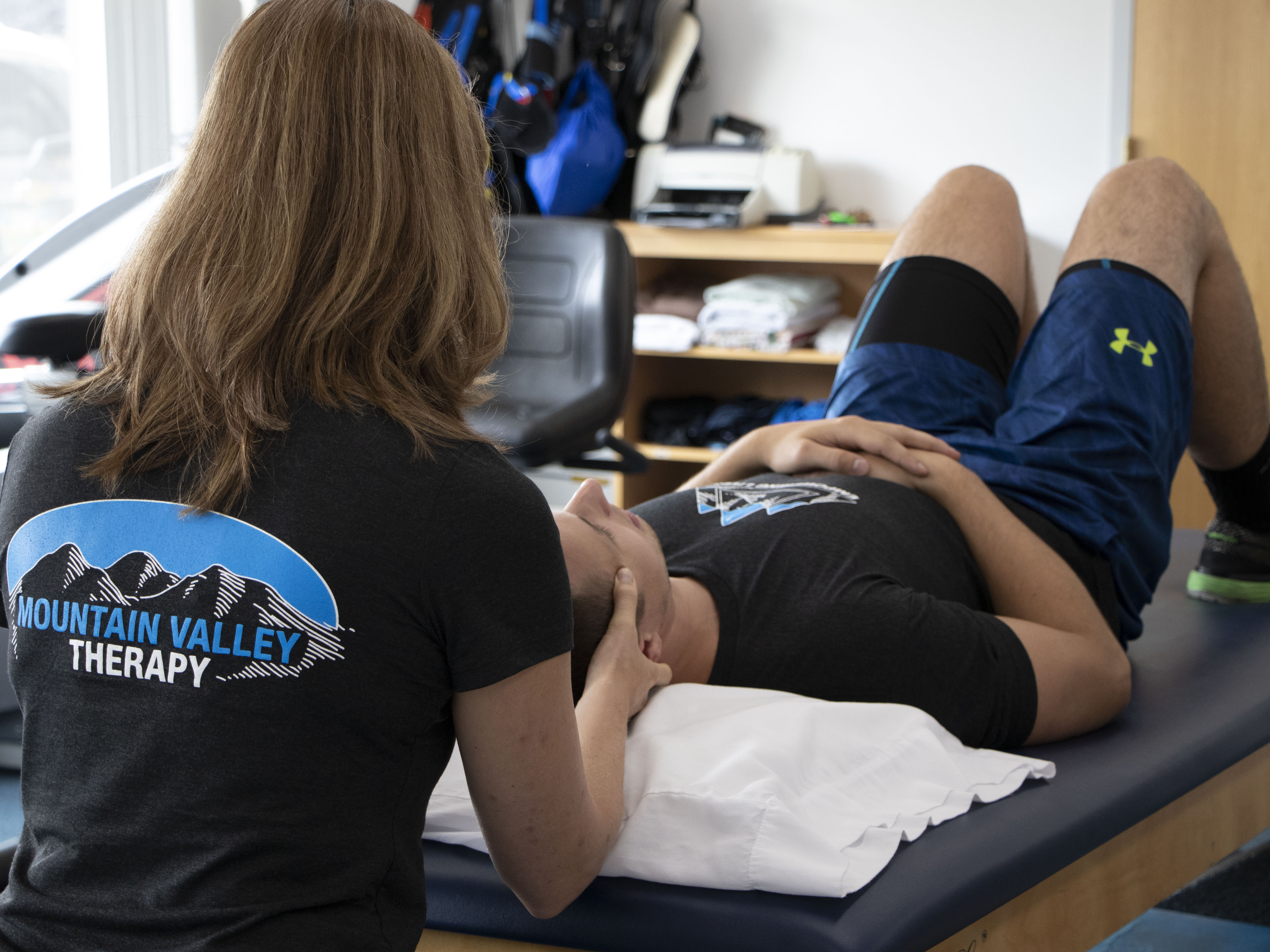 The Mountain Valley Advantage
State of the Art Therapies Through Continued Education
Our clinical staff members take countless hours of continuing education courses to improve your quality of life.  As a result, we are able to offer an extremely comprehensive array of therapy techniques and services, including several rare, hard to find treatments such as  Craniosacral Therapy, muscle-energy technique, strain/counterstrain, manual lymphatic drainage, and sensory integration therapy.
If there is a better, faster, more effective way to help you be healed, chances are we already know it and can deploy the best therapy strategies as needed.
Personalized Plan of Care
We believe that each and every patient deserves to be treated like a unique individual whose health and recovery is a special and personal issue.  While some injuries or pain are common, each patient arrives with different needs and challenges. Our therapists will create a personal plan of care uniquely suited to you so that you can get back to experiencing the full joy of living.
Full Hour Appointments
Because we are dedicated to your recovery, we offer appointments that include a full hour with your primary clinician, allowing you to receive the most thorough, personalized treatment possible.
Our motto is: One clinician. One patient. One hour. No handoffs.
Back, Shoulder, Knee, Elbow Pain
Post-Concussion & Traumatic Brain Injury
Sports Medicine/Endurance & Strength
In addition to the conditions listed above we also offer treatments for a variety of specific illnesses, including:
Learn About Our Different Treatment Types


If you've ever had a contractor come to your home, you'll know that he arrives with more tools then you knew existed so that he can be prepared for whatever problem he encounters.  Likewise, our therapists have large tool boxes full of skills to customize your plan of care. We encourage learning and our therapists are motivated to invest their time sharpening their skills or learning something completely new.
Aquatic Therapy
Mountain Valley Therapy is the home of the ONLY on-site therapy pool in all of Union County. Boasting temperature controlled water, no invasive chemicals, varying pool depths, aquatic therapy equipment, and a current generator, our pool is an effective means to improve your therapy experience. Aquatic therapy has many benefits that are quite difficult to attain during land therapy, but the most important values are:
Decreased loading to affected body region, allowing for more optimized movement. (Especially post-surgical!)

Warm temperature and water medium allows muscles to relax, decreasing muscle tension and pain.

Effects of buoyancy facilitate mobility and decrease restrictions in affected joints.
Occupational Therapy
The fields of Occupational Therapy and Physical Therapy are often confused. While both roles provide essential hands-on rehabilitative work to help clients perform everyday tasks as independently as possible, each field takes a diverse approach in helping people get back to their usual way of life. The main difference between Occupational Therapy and Physical Therapy is that OT focuses on improving a client's ability to perform activities of daily living (ADL) and PT focuses on improving a client's ability to perform movement of the human body. 
Occupational Therapy treats the whole person using a holistic approach to find out why patient participation in activities has been impacted and patient's role and environment. Whether recovering from injuries or have developmental or cognitive disabilities affecting motor skills, emotions, or behavior. 
ASTYM
ASTYM is a tool-assisted technique that breaks up adhesions and scar tissue to allow for more functional movement, catalyzing the healing process. Post-surgical patients, individuals with arthritis, and those who have suffered specific muscle or soft tissue injury are those who would benefit the most from this technique. As more treatments are performed on the designated area, more function will return and pain should decrease noticeably. ASTYM is a very rapidly growing treatment technique due to its results, and its success rate speaks for itself. Clinicians are ASTYM certified through a particular training course in order to properly use this method.
Cranio-Sacral
An alternative therapy type that involves a very gentle, light touch approach that releases tension in the central nervous system so that every other system in the body can relax, self-correct, and free itself from pain and discomfort. Cranio-Sacral therapy is ideal for individuals who are highly sensitive or prefer non-invasive techniques. Each therapist has undergone intense, specialized trainings in order to properly interpret the signals and feedback from the body. Once a patient's body has begun to free itself of pain and discomfort, a maintenance program can be established to continue proper self correction as treatment concludes.
Myofascial Release
A technique that treats muscle immobility and pain by relaxing spasmed or contracted muscles, improving blood circulation and stimulating the stretch reflex in muscles. This is a manual approach, involving direct contact on the treatment area by the clinician. Commonly taught in schooling for physical therapists and physical therapist assistants, our clinicians take continued education classes to enhance their skills in this technique. As tension, circulation, and pain in the desired tissues lessen, strengthening becomes easier and movement becomes normalized.
Strain-Counterstrain
A manual technique that treats muscle and joint pain by putting the body into positions that comfort muscles or decrease pain for a set length of time. This allows for the release of a muscle that is tight or has been strained. Clinicians are trained in this technique in their schooling, or have attended advanced courses to further their expertise in using it. After a muscle has been released, it allows for improved function and movement while decreasing pain. Nearly any individual can benefit from this technique if his or her body shows a response to it.
Dartfish
We utilize Dartfish software to provide running assessments and give feedback for injury prevention, performance, and maintenance. Along with this, we provide shoe recommendations to enhance the performance of both beginner and seasoned runners. A running analysis can be beneficial for discovering abnormalities or weaknesses that may lead to unnecessary injury, as well as helping you find ways to improve the strength and efficiency of your running form.
"I tore multiple ligaments in my right ankle during basketball, and MVT helped me before AND after surgery to get my motion and mobility back. I am now pain free, and able to do daily activities and fun things without pain."
"I am always improved mentally and physically after treatments. Very thankful to have this treatment available in our community."
call to schedule your first appointment
Our Free Consultation is a Great Way to Decide if We're Right for You.