Your First Visit
If you are preparing to begin your care at Mountain Valley Therapy, here is what to expect.
Make Sure to Send Over Your Referral
Most patients come to us with a referral for physical therapy or occupational therapy that was issued by their physician — this referral is like a prescription similar in form to what you take to the drugstore for medicine and includes recommendations for treatment.
Verify Your Insurance
Our staff will verify your insurance and our participation in your specific insurance plan.
NO SURPRISES ACT
You have the right to receive a "Good Faith Estimate"
explaining how much your medical care will cost
Under the law, health care providers need to give patients who don't have insurance or who are not using insurance an estimate of the bill for medical items and services.
• You have the right to receive a Good Faith Estimate for the total
expected cost of any non-emergency items or services. This includes related costs like medical tests, prescription drugs, equipment, and hospital fees.
• Make sure your health care provider gives you a Good Faith Estimate in writing at least 1 business day before your medical service or item. You can also ask your health care provider, and any other provider you choose, for a Good Faith Estimate before you schedule an item or service.
• If you receive a bill that is at least $400 more than your Good Faith Estimate, you can dispute the bill.
• Make sure to save a copy or picture of your Good Faith Estimate.
For questions or more information about your right to a Good Faith Estimate, visit www.cms.gov/nosurprises or call 503-814-2455 (4-BILL).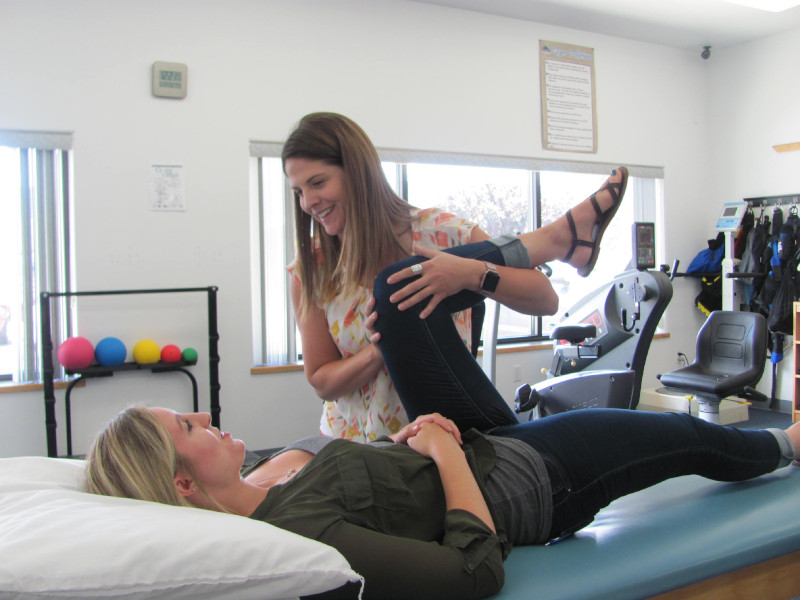 What to wear
We usually recommend that patients wear looser-fitting exercise clothing and athletic shoes for maximum comfort. Please no slip-on sandals or crocs.
Patient registration forms
Please arrive 20 minutes early to allow time to complete your new patient registration forms. You may also take a few moments now to review and print our forms. When you arrive at the clinic, the reception staff will greet you and review the forms. Your receptionist will schedule your appointments and collect your co-payment (if applicable) at each visit.
Meet the therapist
You will meet with a therapist who will evaluate your injury or condition, discuss your goals and specific needs and develop an individualized treatment plan.
Next steps
The length of your treatment plan and frequency of visits is based on your specific injury/condition, the physician prescription, your insurance plan and the therapist's recommended treatment plan.
What to expect
At each visit, you will work with a member of our clinical team who will instruct and supervise your care. As you reach specific treatment goals, you will progress to new levels, treatments and exercises.
At each visit, your therapist will answer any questions you may have. This is a terrific time to share your thoughts, revisit your goals, and discuss any other pertinent information with your therapist.
In order for our clinical team to get you back to optimal functionality in a quick and safe manner, you will likely have more than one therapy appointment a week. While this may present a temporary interruption to your schedule, your long-term gains will offset any inconvenience.
We ask that you arrive at your appointment 10 minutes early to allow for any administrative tasks you may need to do, i.e. change an appointment, make a co-payment, fill out paperwork, etc. This is to ensure that we get you started with your treatment on time.
If you are going to be late for your appointment, or if you need to leave your appointment early, please call ahead of time to let us know so we can plan accordingly. This is important to keep the therapist on schedule and to ensure that you get your full time with the physical therapist.
Please remember that we do have a 24 hour cancellation policy and you may be charged the $50.00 fee if you do not give us sufficient notice of your cancellation.
If you do need to cancel an appointment, we will then ask you to reschedule. This is because we need to follow the plan established by your therapist and/or physician. It is important to uphold your schedule and to complete your entire therapy program in order to reach your goals and to remain mobile, active, and healthy.
 Most patients attend physical therapy two or three times a week. As a courtesy to our patients we do reminder calls the day before your scheduled appointment. You may be scheduled at different times each day, on different days each week, and it can be easy to confuse one appointment with the other. Please listen to the entire reminder call to confirm the correct day and the correct time of your appointment. Check your print out schedule, and please do not hesitate to call our front desk at 541-962-0830 with any uncertainties you may have.
You may be provided with a home exercise program that compliments your plan of care. The home program is an important part of the healing process and will assist you in achieving your goals.
To ensure that you get the most from your physical therapy experience, please perform your exercises at home in a range that does not increase your baseline level of pain. These exercises are considered an extension of the plan of care created by your therapist.
Remember to breathe throughout the exercises! If you have increased pain during the exercises, STOP. Please listen to your body as this is not the time for "no pain, no gain". Do not perform that task again until you have spoken with your therapist.
If you have increased pain in the day(s) following your appointment please call us as soon as possible. We have changes and cancellations throughout the day and we may be able to get you in before your next scheduled appointment.
Our Awesome Fitness Center
When you have completed your time at Mountain Valley Therapy, we encourage you to continue your exercise program and build on your success with Mountain Valley Fitness & Health. We have many unique resources to help you achieve your health and fitness goals, all under the same roof.
call to schedule your first appointment
Our Free Consultation is a Great Way to Decide if We're Right for You.