Looking for a career at Mountain Valley Therapy? Open positions will be listed on this page. If you are interested in applying please follow the directions for the position listed.
We are currently hiring a Occupational Therapist.
We are growing and we are looking for a Three-Quarter to Full Time Occupational Therapist with an interest for hand therapy.
The full time Occupational Therapist we currently employ is a certified hand specialist with an extremely full case load. This position will take the less advanced hand therapy patients so that our main hand therapist can focus on the advanced hand therapy cases. In addition to hand therapy, we also want this position to take on some general Occupational Therapy cases. We can offer Three-Quarter Time (32 – 39 hours a weeks) or Full Time (40 hours a week) based on the needs of the person hired for this position.
You will be in charge of evaluating, treating, documenting, and discharging your own case load.
Qualifications & Requirements
Bachelor's, Master's, or Doctorate of Occupational Therapy from an accredited program.
Have or obtain Oregon Occupational Therapy license.
Have or obtain BLS card.
Applicants with experience in hand therapy preferred.
We are new grad friendly, for this position we are requiring that new grads have done some of their clinical work in hand therapy settings, and have an extreme passion for hand therapy.
Wage Range & Benefits
Salary: $74,880 – $104,000 DOE.
Health Insurance including vision and dental with a generous company contribution based on dependents.
401K with 3% company contribution after 1-year and 1,000 hours employment.
12 free treatments a year.
Free membership to our fitness & health facility.
3 weeks front loaded Paid Time Off (PTO) per year to start and 4 weeks front loaded per year PTO after 3 years of employment.
7 paid holidays per year, which include New Years, Memorial Day, 4th of July, Labor Day, Thanks Giving, Day after Thanks Giving, and Christmas Day.
Generous continuing education allowance of up to $2500 per year, with up to 5 paid days off per year.
Tuition assistance bonus of up to $10,000.
Up to $2500.00 in moving expenses reimbursements.
Flexible scheduling options.
If you are a Occupational Therapist interested in this position please contact Royce Woosley in Human Resources by phone at 541-962-0830 or by email at rwoosley@mountainvalleytherapy.biz for information on potential opportunities.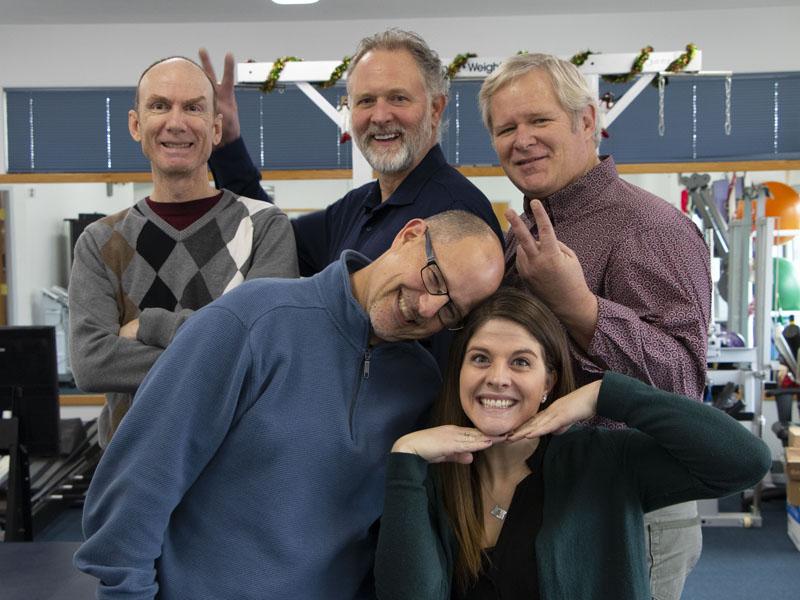 At Mountain Valley Therapy we value learning. That is why we are always excited to take on students and volunteers.
If you are a Physical Therapist (P.T.) Student or a Physical Therapist Assistant (P.T.A) Student looking for your outpatient clinic hours, please contact Royce Woosley by phone or email at 541-960-0830, rwoosley@mountainvalleytherapy.biz. We currently have both PT and PTA APTA certified Clinical Instructors (C.I.) on staff. James Gorham, PT, CEO and owner, is our Clinical instructor for PT students. With over 20 years of experience, James focuses on orthopedic treatments. Tracey Gorham, PTA is our Clinical Instructor for PTA students and also has over 20 years of experience. We enjoy helping student get their hours required for graduation and have even hired some of those students after they complete their degrees and licensing.
If you are not sure if you want to be a Physical Therapist or Physical Therapist Assistant, you are welcome to volunteer at our clinic to see if this profession is right for you. As a volunteer you can observe both Physical Therapists, Physical Therapist Assistants, Athletic Trainers, and Gym Aides to get a full, well rounded view of what life is like in an Outpatient Clinic setting. If you are interested in volunteering or observing please contact Brook Jorgensen by phone or email at 541-962-0830, bjorgen@mountainvalleytherapy.biz.
All Students, Volunteers, or Observers must go through a small orientation process which involves signing a confidentiality agreement as well as agreeing to our clinic's policies and procedures.
Keep Up With Mountain Valley News and Events
Your email is safe ❤️ . We hate SPAM as much as you!